Xavier Ramon, from Universitat Pompeu Fabra, will attend the World Journalism Education Conference (WJEC), which will be held in Mechelen (Belgium) from 3 to 5 July, 2013. He will present the paper Renewing journalism education through simulation, media integration and collaboration between universities and companies: the experience of VilaWeb-Cetrencada.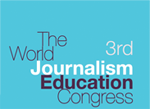 In his presentation, he will examine the foundations of the collaborative approach between Cetrencada (product developed at Universitat Pompeu Fabra Journalism Studies) and the online media VilaWeb, the production routines and the quality criteria and ethical principles that students must fulfil in their task. Later, he will present the results of the analysis of the multimedia reports multimedia reports carried out by students between October 2011 and April 2013. In addition, he will thoroughly evaluate the experience of the students' live coverage as correspondents of VilaWeb on the Catalonian Parliamentary Elections 2012.
Finally, regarding the future challenges, particular emphasis will be placed on explaining how the Integrated Journalism in Europe (IJIE) project can help to promote the exchange of journalistic production between European students and boost the internationalization of the methodological approach of simulation, integration and collaboration between universities and companies.

Xavier Ramon