Henrik Wilhelm Jørgensen
Head of studies at the Danish School of Media and Journalism, department of Journalism and Communication. He has 25 years of relevant management, consulting, teaching, editorial and journalistic experience in Denmark and abroad.
Contact: hwj@dmjx.dk
Inger Munk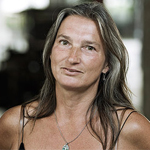 Head of International Department at the Danish School of Media and Journalism. Since 2004 she is the EU Coordinator for the Erasmus Mundus Masters Journalism, Media and Globalisation. European Project Director for the EU-Australia programme supported project Global Environmental Journalism Initiative (GEJI) (since 2008) and project Director for projects supported by the EU-Canada and EU-US programmes: "11 September and Beyond – the Challenge for Journalism Education" and "Journalism and Stereotypes".
Contact: imu@dmjx.dk
Kresten Roland Johansen
Project Manager in International Department and associate professor at the Danish School of Media and Journalism. He has seven years of relevant international course and project management/coordination and teaching experience in the field of quantitative methods and surveys in the media.
Contact: krj@dmjx.dk
Asbjørn Slot Jørgensen
Journalist, associate professor, Danish School of Media and Journalism (DMJX). Asbjørn Jørgensen teaches international reporting, news and analysis, investigative and data journalism, and multimedia courses. Since 2000, he has been working with the school's international projects as project manager, consultant, and teacher/trainer. He currently coordinates the International Semester and Europe In The World programmes. He has served as chairman of the Teachers' Council and of the school branch of the Danish Union of Journalists. Before joining the school, he worked for major Danish news media as a staff reporter, and as an independent journalist, mainly with business and technology news.
Contact: asbo@dmjx.dk