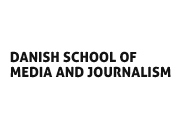 The Danish School of Media and Journalism (DMJX) was formed in 2008 by a merger between the Danish School of Journalism, the Graphics Art Institute of Denmark and UPDATE. Located in Copenhagen and Aarhus, the institution is the only place in Scandinavia that covers the whole media sector and provides design and content to the media industry (journalism, photojournalism, graphic design, interactive design, creative communication, TV and media directing and media production and management) through a wide range of Bachelor and Master's degrees, diplomas and courses.
As one of the great advantages this gives students and teachers the opportunity to exchange knowledge and experience of the media sector across specialist groups. In addition to this, DMJX has a significant international profile and has coordinated projects such as "Europe in the World", "Erasmus Mundus Masters in Journalism, Media and Globalization" or "Global Environmental Journalism Initiative", among others. In addition, for more than 15 years, the Danish School of Journalism has conducted and participated in projects to support the development of professional and independent media, journalism education and mid‐career training in third world and transition countries.
Given its substantial experience in media education and teaching with a practical profile, in the IJIE project DMJX will lead the task of designing a pedagogical methodology with the help of the rest of the participants. DMJX will test the activities and the materials produced in real-class scenarios to gauge their validity.