Representatives of the IJIE partners met in Aarhus, at the Danish School of Media and Journalism for a series of discussions on the current state of the project over the course of three days. This second meeting was hosted by Kresten Roland Johansen, Henrik W. Jørgensen and Inger Munk.
In the meeting, that was developed from May 29 to May 31, 2013, Salvador Alsius and Irene da Rocha from UPF (Spain) tackled administrative, financial and workflow issues as well as the status of data gathering and country-based analyses of journalism higher education programs in European countries. Following a brief analysis of the situation, new tasks and a new deadline for completion were mutually agreed on.
Jacques Guyot, Aurélie Aubert and Veronika Zagyi from Paris 8 (France) further presented their work on the state of the art and the participants discussed a questionnaire meant to supplement the information already recorded in the database and an interview guide proposed by the French partners.  These tools will be used to gather in-depth knowledge about practices in both journalism education and industry within all the participants' countries. Interviews will be conducted with the following stakeholder categories:  heads of Journalism departments, media professionals teaching in Journalism schools, researchers investigating journalism and editors-in-chief or heads of newsrooms.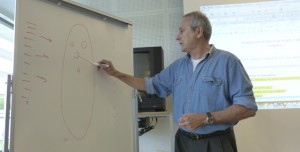 Andreea Mogoș and Radu Meza from Babeș-Bolyai University (Romania) proposed an implementation solution for the integrated newsroom platform using LD Shake and Superdesk, both open source web content management systems and the project team set some deadlines.
Annelie Frank from Linnæus University (Sweden) will start working on a model for quality assurance and both internal and external evaluation of the project.
The three-day meeting ended with a discussion on dissemination by writing features for the project the partners' websites, book reviews and scientific articles, but also interacting with the project Facebook page and Twitter account.
Radu Meza